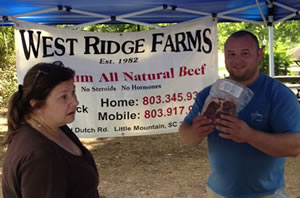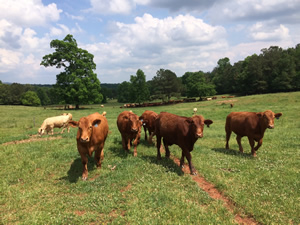 West Ridge Farms began in 1982, when John Frick bought the land our cows now call home. Although the land had been used as pasture once before, years of neglect and vacancy had allowed trees and brush to grow up. John Frick cleared all of it himself and began planting and plotting out pastures.

In 2009, with the soaring price of corn, we at West Ridge Farms decided to transition to a grass-fed herd and eliminate commercial cow production. However, not all breeds of cattle are ideally suited to exclusive grass-feeding, so we researched and experimented until we settled on Red Angus bulls with some Continental heritage (Charlais, Simmental, and Limosin) from our existing brood stock. Our Registered Red Angus bulls provide the strong marbling characteristics that beef-lovers crave. In 2013, by paying diligent attention to the cows' needs and with a little help from the weather, we successfully raised our first group of grass-fed calves from birth to slaughter.

We guarantee that our beef is free of all steroids, added hormones, and antibiotics. Our cattle are raised entirely on pasture and are not confined or sent to feedlots.